Best Rental Companies for Cars and Campervans
New Zealand is bountiful not only with dairy products but also of scenic heaven. Every spot you see is like something new, a place you've never been to and a place where you want to wake up to if given the chance. New Zealand is like a breath of fresh new air. It's invigorating and inviting.
The parks in New Zealand are some of the best in the world. They're still virgin, spacious and clean. They also offer the best parking spots. Their holiday parks offer back to nature camping giving any visitor a different style of vacation.
Best rental companies for cars and campervans in NZ
Travelling at your own pace and at your own time gives you a free spirited feeling. This is what it feels like when you are hiring a car or a campervan when you're out and travelling New Zealand.
New Zealand has a lot of companies that offer rental services to travellers. There are these international rental companies such as Avis, Thrifty, Budget and Hertz that has almost 30 branches in the entire country. While there are also smaller New Zealand rental companies that also offer quality services. These include:
Maui is probably one of the most popular rental companies in New Zealand and Australia. They are already over 25 years in business and that's not without a reason. The rental conditions are quite strict and they only rent to international tourists owning an English (or translated – international) driving license. The campervans are top-class and the hire cars are less than 2 years old!
Maui has three rental locations on the North and South Island so even one-direction rental is no problem. In case of problems you can contact their 24/7 customer service.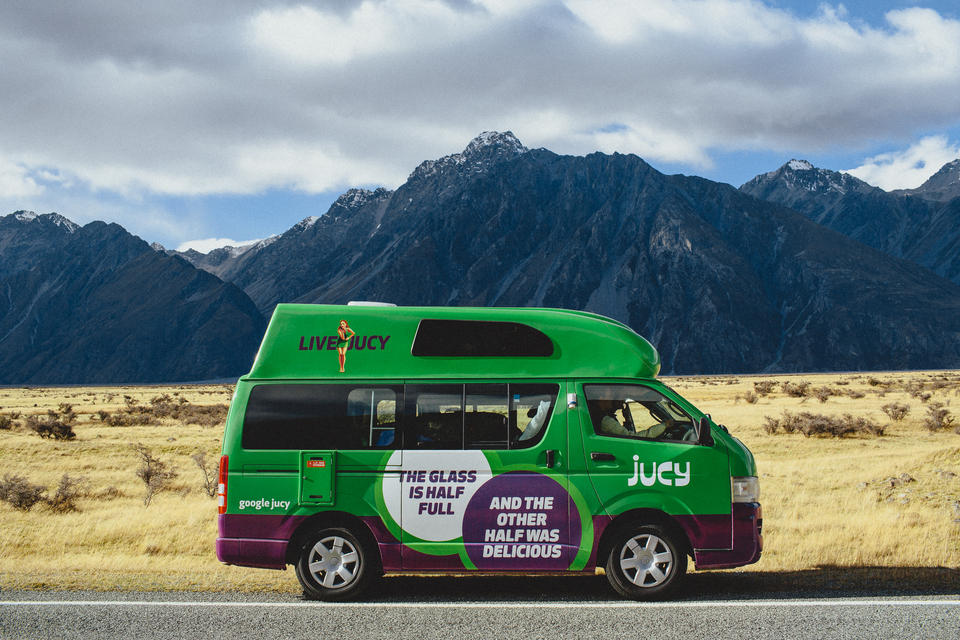 Jucy Rentals is a family owned rental company and offers hire cars and small campervans from their 6 branches spread out over the North and South Island. Since the start in 2001 the company has grown from 35 vehicles to over 3,000 vehicles in New Zealand, Australia and USA.
If you hire at Jucy then you will receive a discount for the Interisland ferry and depending on the durations of your hire period this discount can be quite considerate!
The company doesn't only rent out cars but they run the Jucy Cruise in Milford Sound and the Jucy Hotel in Auckland.
With 17 branches all over New Zealand and Australia, Ace Rental Cars sure does promise quality service.
They give their clients the convenience to easily book with them online. They are open 7 days a week and offer a wide array of vehicles for the clients to choose from. Ace Rental Cars also cover 24/7 Mechanical Roadside Assistance as well complimentary shuttles for airport pickups.
Started in 1992, the Omega Rental Cars company has been a well-known car rental service that with solid and reliable services. They've been servicing both local and international guests for 21 years now.
The vehicles they offer their guests with are regularly maintained with each undergo 40-point safety check. They also provide their clients with a 500+ page of travel guide and road atlas to help them with their journey or GPS services to make navigation more carefree. Their vehicles are also covered with 24-hour Roadside Assistance.
A saver for a backpacker, Bargain Rental Cars truly gives good value for their services. They have 8 branches nationwide and provide services in Auckland Airport, Wellington Airport and Christchurch Airport.
Bargain Rental Cars is wholly Kiwi owned and operated business. It offers guests with competitive prices and promises no hidden charges. Their vehicles are covered with basic insurance and 24-hour AA Roadside Assistance. They also provide their clients with free maps and guides.
Whether it's a car, van or a 4-wheel drive vehicle, Go Rentals promises to give their clients with the best services. They have 5 branches nationwide in the country's major destinations such as in Auckland, Wellington, Christchurch, Wellington and Queenstown.
They have a fast and reliable online booking system that lets clients to easily choose the vehicle they want for their New Zealand adventure. They offer their vehicles at very competitive rates. They put capping on the number of kilometres you should be driving as it gives the hirer with unlimited kilometres. The policy comes in with free basis car insurance and 24-hour AA Roadside assistance. They also provide their guests with free maps and guides and a free play discount card for more than 60 activities.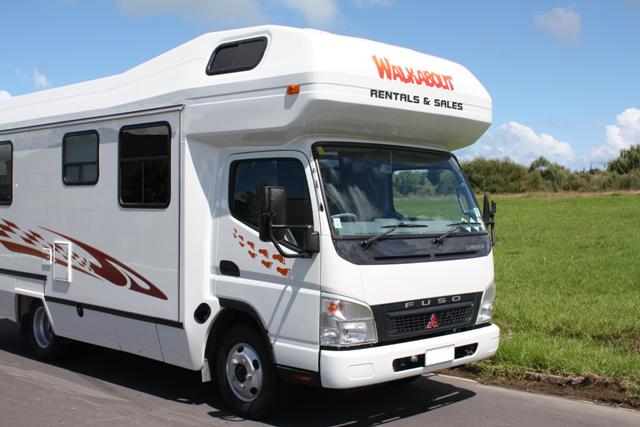 A wholly Kiwi owned company; Walkabout Rentals has been in business since 1999. They offer their clients with variety of motorhomes and campervans for hire for the budget conscious to the luxurious ones.
Their 4 modern and fully equipped campervans are the newest as they assure their guests that their fleets are no more than 2 years old. For 4 and 6 berths, they have added outdoor table and chairs for the users' convenience. They have also added a colour TV to their 4 and 6 berths for additional entertainment.
They don't charge for diesel road tax, additional drivers and credit card fees. Users can be assured that help is always available as they have 24/7 free phone roadside assistance should there be unlikely events that might happen while you're on tour.
Campervans for Rent in New Zealand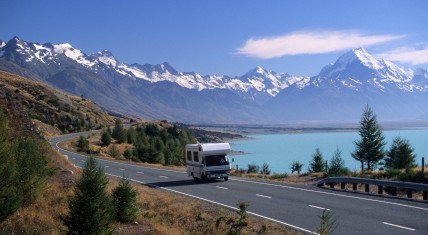 A campervan is like a mobile house. It provides you with a sleeping and eating facility and depending on the size it could have a shower and toilet feature in it. If you're out for camping, this probably is one of the best modes to travel in New Zealand.
In addition to being a sleeping and eating mobile facility, campervans can come in different variations with different features in it:
A 2 berth campervan is a small size van that comes in with high ceiling, a kitchen and a bed. Take note that the kitchen facilities may vary depending on the rental company.
The 2/3 campervan with toilet and shower has the same size as the standard campervan but has added toilet and shower facilities.
4/6 berth is a motorhome with luxurious facilities. It comes in with almost all the necessities you need for a home with a lot of room for storage.
Campervans in New Zealand come in with either manual or automatic transmission. Basically, it can accommodate at least 2 persons or 6 persons at most. There are campervan models that can be as small as a car while there are others that have a refrigerator, separate sitting area, shower and toilet in it.
Minimum rental period for a campervan in New Zealand is 5 days but during peak season especially on Christmas and New Year, the minimum rental period is 10 days.
Normally a hirer must be at least 25 years old at the time he is booking but there are rental companies that offer campervans for younger renters (backpackers and young travellers) and you must possess a driver's license that is in accordance with the New Zealand driving policies.
Car Rentals in New Zealand

Another way to enjoy New Zealand without any tour guides or commuting on a public transport is by hiring a car and doing a self-drive holiday. New Zealand rental companies offer tourists with many options to choose from and may vary on the size of the group and their vehicle requirements. Thing is, there is always a vehicle meant for your budget.
Cars that are up for rent may be manual or automatic transmission, with CD player and air conditioning system. Rental duration is computed for every 24-hour interval from the time of its pickup. Rental companies don't give refunds for returns less than the scheduled time. If a renter opted to cancel his reservation within 72 hours of pickup they may still charge you for three days use and the same goes for "No Show". When booking for car hire, they usually require you to deposit 10%, and pay the remaining balance upon pickup.
In New Zealand, a car hire comes in with a full comprehensive insurance. It is mandatory and is already included in the rental rates. There is a certain amount for the hirer to pay should there be any damages in the car upon return.
Most rental companies require you to have a credit card where they will put a pre-authorization on. The pre-authorization can be between a few hundred to a few thousand New Zealand dollars, depending on your age, duration of the hire period and the car or campervan.
It's a rule that for a hirer to be allowed to rent a car in New Zealand, he/she must be 21 years old and above and is holding a driver's license with English translation in it. They normally won't require you to pay for extra driver just make sure that the co-driver is also 21 years old and above and must have a valid license.
Choosing the best rental company
Any traveller who wishes to travel a new place at his own pace, renting a car or a campervan is the best way. However, there are always a lot of options out there and picking out the right, if not the best rental company is not a piece of cake.
The decision to hire a car or a campervan is another issue you should be dealing with if you're planning to tour New Zealand on your own.
What to look for when renting for a car or campervan in New Zealand?
Is the car company dependable especially during emergency situations? Check if the car rental company that you are about to get booked includes a 24-hour roadside assistance.
Does it have everything that you need? You should be able to identify what are your specific requirements for a car when in New Zealand. Divulge to them all those requirements including your budget. It's pretty sure that they will always have a car for you.
What is included in the payment? You must check on the details of what you are paying for. Ask them what are the inclusions and exclusions of the service.
Does the car company also have a ferry service? If you are travelling North Island and South Island, then you'll really need a ferry to cross between those islands. There are car rental companies that have depots on both islands.
When hiring campervans, check if the rental company offers windscreen insurance cover. This will be of great help should breakage occurs. Check with them what is not included in the policy so you can set aside a budget should disaster happens.
Be wary of the fuels the vehicle needs. Generally, cars and smaller campervans will require either regular diesel or petrol. However, larger vehicles usually need diesel to keep on running.