Self Drive Holiday
New Zealand is popular when it comes to travelers, and there is a huge reason why; the country's natural attractions are considered as one of the most amazing in the world. It is an excellent choice for vacation destination, and a self-drive holiday is one popular travel option of touring and exploring the country.
One of the main benefits of driving a car in place like New Zealand is the freedom it brings travelers; you can go anywhere you go at your own pace and rules. You can stop for a breather if you've gotten tired of driving, halt the vehicle to take in a particularly beautiful scenery or have a small impromptu picnic in one of NZ's fabled greens.
NZ has a string of wonderful places you can take delight in, and the liberty a self drive tour brings can up your vacation in more ways than one. You money will be well spent and you will have plenty of pleasing travel memories that you can bring home with you. Find advice on hire cars and campervans here, as well as an overview of the best rental companies in New Zealand.
One of the best things about driving in New Zealand is the country's road network. The roads are well-constructed and you will see sign posts anywhere you go which makes it easy to get about. The traffic is tolerable in general, it is safe and not overcrowded. In this article, you will find more information about self driving holidays in NZ.
You can either fly or take a ferry to go from the North to the South Island and the other way around. Majority of those passenger ferries carry vehicles as well, and there are many rental firms available who permit customers to take their leased vehicles with them on the ferry. Some firms oblige customers to swap vehicles though; you return the rental car at one side of the ferry journey, take the ferry as a pedestrian, and pick up a new rental car at the other side of the ferry journey.
Some customers prefer swapping cars as opposed to taking the cars with them on the ferry, especially during the peak seasons. The possible waits for available space on a ferry is one factor to consider and the steep rate for the transport is another.
As accustomed, bookings are not absolutely needed if you want to take a vehicle with you. But there are often discount rates available if you do make reservations beforehand and you'll have the certainty that you can take the ferry at a certain time.
Deciding on rental firms plus fuel rates
There is a mix of multinational rental companies and smaller firms in the country that you can check out. Usually, the smaller rental car businesses are more affordable than the franchised ones.
Fuel costs in New Zealand are steeper as compared with the cost of gasoline in the United States. It is higher by 50%, are retailed by the liter and measured in UK gallons. If you want to save up on gas, then make sure that your rental car is not the gas-guzzling type.
Deciding between cars and campervans
Majority of out-of-country travelers prefer the convenience of regular cars or SUVs, especially if they are traveling solo. Also, there is a good variety of rental campervans and motorhome sizes that you can choose from. Keep in mind though that a campervan/motorhome is smaller as compared with the US standard RV.
You can save money on hotel accommodations by leasing a campervan/motorhome, but they have their disadvantages as well. For one thing, those said vehicles are a tad more complicated to park and uses up a lot more fuel than your average car. A possitive aspect of a campervan is that there are many beautiful located DoC camping grounds around the country on which you can stay overnight fairly cheap. Quite often are the start and finish of great hiking trails are close to these DoC camping grounds.
If you have decided to rent one though, remember that you must be acquainted with the day-to-day rental rates, which can vary because of the season. Discounts are usually available during winter and in the summer, expect that almost all rental vehicle places are booked to the gills. If you want to travel the country by car in the summer, make sure that you book your reservations months ahead so you can take advantage of a good rental rate.
Another tip; discover how old your car actually is to avoid mechanical troubles along the way. Think through with caution first before being incited to pay extra for a newer automobile.
If you are going on a driving spree around the country, you should carefully consider the distance you should cover in a day before embarking on a trip. NZ maps all come with traveling times (link) and some of these estimates may come off as too old-school since some of it were set up when the speed limit was only a minimal 50 miles per hour.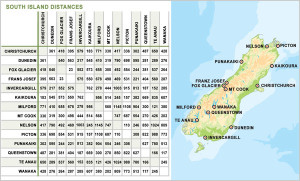 However at this time, the speed limits has risen to 62 miles per hour and as expected there's plenty of improvement in terms of road construction. The country has better roads than ever which makes for smoother, faster traveling.
If you are keen on observing the speed limit, you can make do with getting 50 mph. But if you still have that need for speed, then perhaps you can make do with speeds of up to 60 mph.
Driving in New Zealand
One of the most enjoyable ways to tour and explore the country is by means of wheels, be it a car, campervan or motorhome. New Zealand drivers though observe different rules of the road as compared in other countries. Here are a few road code tips travelers must know before embarking on an NZ road trip.
First and foremost, you can drive legally throughout the country for up to a year if you possess an International Driving Permit or your latest driver's license from your country of origin. NZ has undergone law changes as of late, and it requires drivers, even tourists to carry a permit or a (international) license with them all the time when driving around the country.
You are only allowed to operate similar kinds of automobiles you are licensed to drive in your country of origin. A customer must be 21 years of age to acquire a rental vehicle. If the license you are carrying is not in English, make sure that you take a good English translation along with it.
NZ folks drive on the left side of the road and the set-up of the country's cars require the driver to sit on the right side. Keep in mind to drive on the left the entire time. It can prove to be a challenge the first time around, most particularly if you are getting away from traffic. A handy tip is to put a sticker or note on your steering wheel to help you remind to start your day on the left side of the road. You wouldn't be the first one, driving off in the morning on the right side of the road until you see another car driving towards you on the same side!
NZ has an open road speed limitation of 62 mph and in developed areas, a speed limit of 31 mph to be followed. Remember that there is no heightened speed limit in the country's freeways. These speed signs can be recognized via signs, which is a black number in a circle enclosed by a red stripe.
You will also notice the signs referring to open roads, which can mean you can then apply speeds not higher than 100 kilometers per hour.
Other countries are cool with first-time foreign travelers committing road mistakes, but NZ treats speed limit mistakes seriously. They will collect fines even if you're a traveler from another country. Pro tip; pay your fines on time because if you happen to decide on returning to the country, you might encounter trouble while passing through Immigration.
You will recognize New Zealand speed enforcement by their inconspicuous dark-color vans with tinted windows. These vans are equipped with a hidden radar camera within. They are often parked by the side of the road, thus if you see a van with dark windows coming after you, be wise and check your speed.
Always take a good rest before embarking on a drive. You came to NZ by plane and chances are you will be jet-lagged. You have a long day of traveling by car the next day, so take ample rest to avoid trouble with the country's traffic/road task force. If you're looking for traveling together with other travellers, you might want to check out the backpacker busses.
Since this is NZ, expect different roads each time you travel. Roads in this country are either on hilly territory, tapered, on gravely terrain or blustery. There are also fewer thoroughfares outside of city proper and majority of the roads are in single lane.
To avoid weather-related hassles, remember to check the news and listen to the weather forecast. With not-so-favorable weather conditions, you can do certain changes in your journey's itinerary to make your travel plans smooth and free from hassles. The South Island has chances of snowfall and foggy weather during late autumn, winter and spring and with this, majority of rental firms offer customers snow chains that they can bring with them on their travels.
Remember too that not all of NZ's rail crossings feature automated alarms. Keep your eyes on the rail crossing if you happen to pass by one; flashing red lights mean trains are on the way. Once the lights quit flashing, you can now proceed with your driving.
As for rail crossing signs, several areas feature the Stop, Give Way and Railway Crossing signs. If you happen to pass by these signs, make sure to pause, observe both ways and proceed only if there are no advancing trains.