Auckland, New Zealand – the City of Sails
New Zealand's center of commerce, Auckland, is a lively and culturally diverse area, the region being the largest Polynesian enclave in the whole world. The city is situated between Manukau and Waitemata harbor hence its nickname "The City of Sails." Being enclosed by water, the city has plenty of beaches, islands and bays for the water lover in you.
Other than being known as a big city, Auckland, New Zealand does have a lot to offer – from first class accommodations, a busy night scene and a host of popular attractions and leisure activities. Polynesian, European and Asian influences thrive on the land, and it provides Auckland its unique flavor.
Discover plenty of the area's culture and get into excellent activities that you can only bask into in Auckland by means of this handy article.
Auckland Sights and Activities
Auckland has plenty of sights and activities that you can enjoy, from relaxing walks, beach combing to thrilling swims with dolphins.
Exhilarating SkyJumps from Auckland's Sky Tower
Auckland's Sky Tower is the place to be for an activity such as the SkyJump. Thrill-seekers and adrenaline junkies will earn their rightful badges by taking part in this pursuit. The Sky Tower has an amazing view of the city and the Hauraki Gulf from an intimidating 630-foot high jump base.
You will get advice from instructors and guidance on safety so there's no need to worry. Your safety harness is guaranteed to be fastened securely before you are escorted to the Sky Tower. After that wild jump, you will be given a jump completion certificate plus a complimentary ticket to the Sky Tower.
Sign up for the Auckland Hop-on Hop-off Tour
Feast your eyes on the region's lovely surroundings and chief sights by getting into an educational yet enjoyable hop-on hop-off city bus tour. It's is great for newbies in the area and a nice way to discover more of what the city offers. The tour includes audio commentary and you can take your pick over a 1-day or 2-day pass and get out of the bus at main points like the Parnell Village on your own accord.
Make your own tour itinerary by means of a flexible ticket; visit landmarks like Kelly Tarlton's SEA LIFE Aquarium or soak up on local culture at the Auckland Museum. Visit seasonal blooms at the Parnell Rose Park Gardens or visit Mt. Eden, the city's highest point which has an excellent view of the city and its nearby harbor.
Experience the awe-inspiring marine life
Love the sea and its swimming inhabitants? Then a trip to Kelly Tarlton's SEA LIFE Aquarium should be on top of you sight-seeing itinerary. It's located in the region's waterfront and it features above 30 exhibits and 9 themed areas with various species of jellyfishes, sharks, sea dragons and stingrays.
If you love penguins, then be prepared for an eyeful of these wonderful creatures for the place features King and Gentoo penguin colonies at the Antarctic Encounter.
Take away your fear of sharks by getting up close and personal. The Shark Cage Dive lets tourists snorkel along with these majestic sea predators by means of a secure shark cage. There is a safety briefing before the dive to guarantee participants' wellbeing.
Try the Auckland Harbour Bridge Bungy Jump
Once more for the adventure seekers; a bungy jump is always in the works over at the city's Harbour Bridge. Participants are taken to a special walk to the Bungy Pod and after making sure everything's fastened just right, get plunged on a 40-meter drop towards the water.
There are several options to specialize your jump; choose whether you want to spin, go forward, flip-flop or tumble over backwards as you take the plunge in a mere 5 seconds. You can also decide whether you want to be hung above the water or get the chance to touch it.
Following the jump, participants are given a complimentary t-shirt to keep as a memento of their memorable jump.
Visit the Auckland Art Gallery Toi o Tamaki
The gallery is located in the city's Central Business District. It was founded in 1888, and features a collection of over 15000 historic and contemporary works of art. The Toi o Tamaki gallery holds talks and film screenings as well and has an en suite café. Its architecture is a fusion of the old and the new.
It has a great selection of artworks for all preferences. One of the featured highlights of the gallery is Charles Goldie's presentation of the Maori folk, done with precise, life-like detail. Other highlights include the Anzac WWI memorials and cubism exhibit.
Explore the Waitomo Caves
In the Auckland region, there is much more interesting to see.
You can discover the mystery that is known as the glowworms as well as the cultural heritage and exciting limestone formations in the Rotorua area. Waikato has its famous Waitomo Caves, which is resplendent with its stalactites and stalagmites.
You can also discover Te Puia, NZ's premier cultural locations. Watch Maori showcases in which the old and the modern mix by way of poi, songs and dances. After that, you can see sights like the dynamic geysers on Te Whakarewarewa Thermal Valley.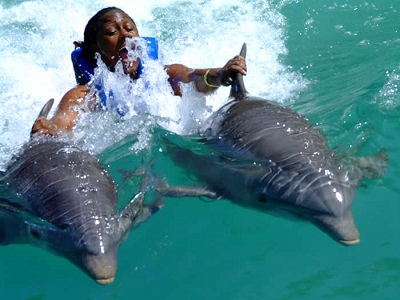 Dolphins are one of the most amazing, gentle and smartest creatures in the planet, so who doesn't want to hang out with them? There are available Swim with the Dolphins tours for this kind of activity and many who took part in it have said that it was one of the most exciting experiences on their New Zealand itinerary.
Dolphin watching happens usually in the Bay. You'll be taken to a prime spot by boat with an expert guide to seek dolphins, and you can snorkel and swim with these wonderful sea creatures.
Enroll in a sailing school
For wannabe ship captains, here's your chance to steer and sail away; there are available sailing and yachting courses that you can take while you're on an NZ vacation. Gather the knowledge only sailors know. You will be guided by experts in total luxury aboard sailing yachts.
Sailing lessons cover beginner and advanced beginners and every equipment utilized during the program are a breeze to handle and in tiptop condition. You will be taught the basics and later on, engage in team building challenges to test your newfound skills.
This is for thrill-seekers; enjoy what Auckland has to offer in terms of devil-may-care activities. Try canyoning in the region, and you might never regret it! Areas like the Piha Canyon has stunning volcanic rock valleys which offers an exciting backdrop for your nature adventures; a roaring waterfall that flows down the valley and into the nearby ocean.
A full day trip will cover plenty of caves and jumps, but it is up to you to choose your own challenge. There are also night trips available for those who like their adventures lit with the glow of headlamps and the stars overhead.
Go on a food and wine tasting tour
For the gourmet and wine aficionado who loves testing different global fare and libations, a trip to the area's vineyards should be on your priority list. Auckland has prime wines and cheeses and a trip to the Waiheke Island for an hours-long food excursion will complete your NZ vacay.
Treat yourself with the area's beer, wines and fine olive oils. The region is known for its micro-climate, which is ideal for cultivating good olives and grapes. In turn, the harvest paves the way for one of New Zealand's acclaimed artisanal wines and olive oils.
Explore the region's gorgeous coasts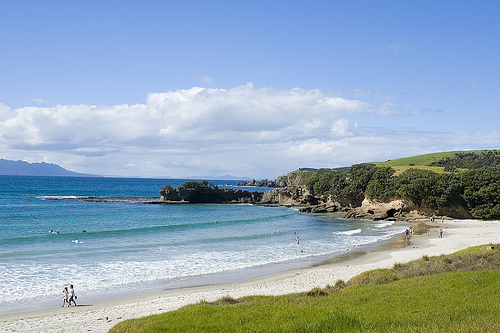 The area has a variety of beaches and it can be kind of difficult to choose one, so why not explore them all? From black sand beaches to amber bays, greater Auckland will satisfy the beachcomber in you.
Enjoy the fine white sands of the Anchor Bay Beach, which is bordered by greenery, from stretched out virgin pastures to lush woodlands. The beach is also an excellent surfing spot because of the prime swells on the east coast. Swim, snorkel and dive; the clear waters of the beach are truly inviting.
The south of Auckland meanwhile offers Karioitahi Beach. It has stretches of black sand which invites busybodies to relax and go have some fun beach activity. It faces the Tasman Sea and it's near Waiuku Forest which also features nice hiking trails and tracks that you can explore.
Beaches the color of amber, the Oneroa and Little Oneroa, can be found on striking Waiheke Island. Relax under the shade of the pohutukawa trees and gaze at the ocean's still waters. Mere minutes away, you can also explore Oneroa village with its nifty collection of shops, art galleries, restaurants and cafés.
Vulcan Lane has a series of hip shops and cafés while Newmarket features boutiques by high-end local designers like Karen Walke. Queen Street has an assortment of huge chain shops along with the usual smattering of boutiques and cafés. Queen Street is the hub for New Zealand souvenirs like caved greenstone accessories and jewelry down to rugby accoutrements.
Parnell Farmer's Market features the city's freshest produce and you will discover stalls teeming with color from various vegetables and fruits. You'll also find artisanal products from various stalls, retailing beer to cheeses. Don't miss the Hoglund Art Glass Gallery if you like fine glass art. An item from here makes a great New Zealand gift.
Ponsonby is for the arty, funky and hip, with stores selling unique homeware, accessories and gifts.
There are a few nice shops and lots of cool restaurants in Ponsonby. This is one suburb you must not miss when visiting the North Island! The shop that attracted most is this big, colourful shop called 'The Garden Party'. The shop has a large mural outside and it's hard to miss it when you are walking along Ponsonby Road. It stocks lots of cute and unusual finds. This will be a wonderful place to find a New Zealand gift to take home.
If you are in Auckland, New Zealand, you certainly have to head to High Street, Newmarket. Newmarket, a favourite fashion district for locals, offers mainstream shopping and here, you will also find Two Double Seven Shopping Centre, a 5-storey building.
Since in New Zealand there is such a huge mix of nationalities, there are many small places and restaurants that offer great food. Have lunch in Prego along Ponsonby road, which is a popular Italian restaurant and the food is simply delicious. Don't forget to end your meal with their famous tiramisu.
If you are a burger lover, don't miss the delicious patties at Burger Fuel, a burger-chain found only in New Zealand. Ponsonby is known for its host of eateries but don't miss out on the specialty design stores and boutiques.
Parnell village is popular with visitors and locals. For lunch, try 'Mink', a cosy and casual café with great New Zealand food and nice coffee. The Chocolate Boutique Cafe is a favourite as well.
When it comes to dining in Auckland, you are spoilt with choices. Just take a walk along the Viaduct Harbour and the options awaits you. The restaurants and bars in the area come alive in the evenings.
Mount Eden makes a wonderful spot for an afternoon picnic. It's also an ideal location for picture moments in the North Island.
Auckland is an awesome tourist destination. There are so many things to do for tourists of all ages and background. From the coasts to the canyons to the shopping lanes to the vine yards – any tourist will definitely have the trip of a lifetime when visiting this New Zealand city.