Travel Options
New Zealand is a country situated in the Southern Pacific's western parts. It consist of two main islands, the North Island and the South Island. Smaller surrounding islands, with Stewart Island at the far south, comprise NZ as a whole, and the country in the beginning was populated by the Polynesian Maori, NZ's indigenous folk.
Soon after the British colony was founded in the year 1840 and by 1907, New Zealand became an independent state. NZ's capital is Wellington while Auckland is the biggest city. English is the official language, along with the Maori language.
It's known for its scores of natural, beautiful terrain and sea sides; for years, NZ has been the choice vacation destination for backpackers, travelers and jetsetters all over the world. The manifestation of the country's majestic mountains, verdant tropical forests, fjords, icy glaciers and crystal-clear beach fronts continue to pull in tourists by the thousands every year.
There are plenty of ways to discover the country. You can go by boat and get to know its stretch of beautiful water fronts and lush rainforests, hike its mountains, or travel by means of a vehicle. You can pick up general information on how to travel the country by means of this article. Provided are the traveling options below and you can decide on what fits your need and budget.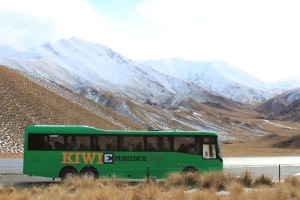 Traveling by backpacker bus is reasonably affordable but keep in mind that services concerning chief towns in the country are habitually done only on one occasion for each day. If you book in advance on several bus lines you might also avail of discounts.
Also, majority of roads in New Zealand are fairly narrow and meandering but traveling by scenic routes can be a secured and peaceful way to see the sights.
If you have plans to tour all over the country, then one affordable way to do this is by getting an InterCity Flexipass. The Flexipass allows the holder of the pass to travel any place that was included in the company's network and it can be used until 12 months.
With the InterCity Flexipass, you'll be provided great coverage of destinations. InterCity won't charge you when it comes to luggage and you won't have to pay a booking charge every time you are using your Flexipass.
Many backpackers choose to travel around the country with the enormously popular backpacker bus tours. These 'Hop On, Hop Off' buses drive around a popular tourist route and stop at major sight seeing places to take photos or to do an adventure. It's fun to travel around with these bus tours because you meet many other backpackers and the bus driver acts as a guide as well. You can easily stop in a town for a few days and continue your travelling after an easy confirmation on the booking website or phone call.
The most popular Hop On, Hop Off bus tours operators are Kiwi Experience, Stray Bus, InterCity and Nakedbus.com.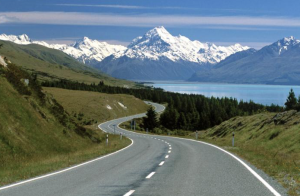 Traveling enthusiasts who love doing the scenic route can always a get hold of a car which they can take for a fantastic self drive road trip all around the country. Traffic in NZ is usually low and most of the time, drivers are considerate as a habit. Find the best car and campervan rental companies here. Just remember, you have to drive your car on the left side of the road.
There might be some different road law comparing to the country you're from. Check out the New Zealand road code before driving off.
Towns normally feature only a single lane in every direction. A standard highway in the country feature a single lane in every direction as well, so make sure to drive carefully during slow-moving traffic until you are secured enough to overtake. Be courteous and keep up with the speed limits.
In order to drive around the country, you need to be at least 16 years of age and must carry a legitimate driver's license from the country where you live in. However, if you are planning a long-term stay in NZ, you must acquire a NZ license as required by the law.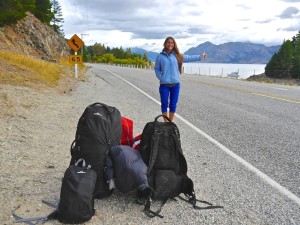 Another option is hitchhiking, rideshare or carpooling. Gas can be pretty expensive, so in order to curb this looming issue, a good number of people decided to share rides and travel with other folks. Several carpooling services are quite casual, but if you want more security, there are carpooling and ridesharing services which provide trust systems.
Rental firms meanwhile are another option. The services range from big-name companies to smaller local businesses. Multi-national car rental firms can be found throughout the entire country and they have the largest assortment of rides you can choose from. However, they can be expensive.
On the other hand, smaller local car operators offer older models, but are more affordable.
Keep in mind that you have to be over 20 in order to lease a vehicle in these car rental firms. You are also required to carry a license or a valid translation of said license if it's not transcribed in English.
Traveling with companions? Then you can make use of a campervan (recreation vehicle – RV).  Campervan or motorhome rental is a very popular way of exploring New Zealand. It has the advantage of providing for both accommodation and transport needs.
There are companies offering various rental options with different onboard facilities, which can include kitchen, dining facilities, toilet and shower. Prices vary from season to season and depending on size. Prices start from NZ$70 per day for 2 berth in the low season to NZ$290 per day for a 6 berth in the high season. There are many of holiday parks and camping grounds around New Zealand where campervans and motorhomes can park, usually in wonderful locations near lakes, rivers and beaches. In many sites where campervands and motorhomes can hook up to laundry facilities, electricity, swimming pools, telephones and play areas for children.
You can choose between diesel-powered or petrol-centric campervans, and decide on one with an automatic or manual transmission. It will usually seat two to six persons per van and minimum leasing period is 5 days as a rule. During the peak season, it can stretch for as far as 10 days. Several campervan units are as small as a standard vehicle while a good number includes amenities like a refrigerator, toilet and even a shower compartment.
As it is with most rental vehicles, a valid driver's license is a requirement. You have to be 25 in order to rent a campervan but there are also several companies who rent similar vehicles to younger tourists.
You will find large campervan depots in places like Auckland and Christchurch and these services are usually situated close to the airports. If you and your group turn up in a taxi, you can easily drive off and start your fantastic vacation. You will be provided a short tutoring in handling the vehicle so you will know how it functions.
Keep in mind that before returning the campervan to the depot, the toilets had better be empty and the fuel tank replenished. Otherwise, you will be asked to pay extra fees.
Travelers who love the looks and the convenience of motorcycles will be glad to know that New Zealand is a country who loves its motorbikes. The country is teeming with rental firms specializing in motorcycles of every make. You will find plenty of these rental 'bike businesses in the North and South Islands.
These motorbike rental firms not only lease gorgeous motorcycles, but offer self-guided motorcycle tours as well. Some even provide extensive guided tours all over the North and South Islands.
New Zealand has well maintained and uncrowded roads perfect for those wishing to tour the country using a motorcycle. Motorcycles are available to hire in several retailers located in the main centres and a valid motorcycle licence is required. Prices start from NZ$60 per day (low season) and can include free kilometres, insurance, breakdown service and airport transfers . Is mandatory to wear a helmet.
If you need to tighten belts, domestic flights or flight seeing trips are an ideal way to tour the country, especially if you have to go to one of NZ's main islands. Take note that the local airlines carry out reservations through the electronic ticketing scheme. Get a ticket by landline, on the Internet or by means of a trusted travel agent and always carry a photo ID with you.
Chief airports customarily perform personal and luggage scanning while the check-in period happens a half-hour before flight departure. Air travel is usually ideal except during faulty weather.
Wellington, Auckland, Queenstown and Christchurch often have scheduled buses that will bring passengers to the airport. Local airports in general provide transportation in the form of taxis and shuttle services.
Flight seeing trips are available in many town and cities in New Zealand. From Cape Reinga and the Bay of Islands in the far north to Auckland, Wellington, Mount Cook to Queenstown and Milford Sound.
Your bike can be an ideal form of transport, so if you have one, you can carry it with you. If you don't have a bike, you can always rent one in several parts of the country's bigger cities. Places like Wellington, Auckland and Christchurch offer exclusive services meant for putting back together bicycles that have been boxed for travel.
Take note to wear your bike helmet at all times because it's a requirement; you will be fined if you got caught. You must also remember to ride on the left side of the road and riding your bike on NZ's motorways is forbidden.
Also, be conscious of the fact that due to the geography of the country, there are towns wherein shoulder space and cycle lanes are limited. There are also wide distances between cities and towns. Several parts of the country have flat terrain, but then again you have to deal with biking uphill on some areas. You can get some good information about New Zealand by bike on this site.
To add, weather also plays a factor in your ride, so always be prepared for any weather disturbance. These days, there is a system of cycle paths that are being constructed around the country and even better, said lanes and routes are safe and scenic.
Traveling by train in New Zealand is a very scenic way to going through the country. Although the railroad network isn't that extensive, you can still get at many places.
The railroad network only consists of four main lines, seven secondary lines and quite a few shorter branch lines as you can see on the NZ railroad network maps.
New Zealand's has a vast rail network operating between main centres and also in the smaller provincial towns. Using the NZ Train Services the tourists will have the opportunity to aexperience the countryside admiring spectacular views. The waggons are comfortable and have large windows. Restaurant waggons are also available. The New Zealand Railway is operated by TranzScenic. The railway is spread from Auckland & Wellington in North Island to Picton & Christchurch in South Island. TranzRail is operating the TranzAlpine too. The TranzAlpine is a world renowned journey starting in Christchurch and crosses the beautiful Southern Alps towards Greymouth in the West Coast. Tourists planning multiple train journeys can use travel passes to save some money.
Places like Wellington and Auckland offer commuter rail facilities. Wellington's rail service is managed by the Tranz Metro while Auckland has the AT Metro.
Locals prefer driving or flying as compared with rail services since the fare can be relatively higher. It's more feasible for tourists and frequent travelers though since it offers great views and a relaxed ride.
KiwiRail Scenic Journeys trains often include programmed commentary and other amenities long-distance trains usually provide.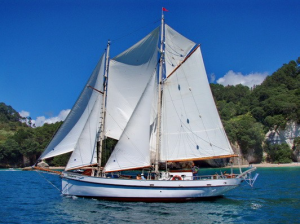 Traveling with a vehicle, especially in a country like New Zealand which is comprised of islands big and small surrounded by water, means you will be inclined to avail the services of a ferry. Areas like Picton and Wellington provide a number of sailing trips each day but be aware that weather can play a factor in sailing times.
Many sailing charters and rentals are possible in the Bay of Islands, Marlborough Sounds and Coromandel.
And what is more beautiful than seeing the country from the water? The spectacular beaches, forests where you normally can't easily come by road.
Commuters can avail of harbor ferries in Wellington and Auckland. There are also charter boats you can use for traveling. Tourists can also check out sight-seeing cruises in several tourist attractions.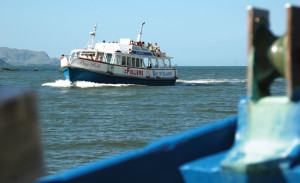 All that said it's safe to say there's so many way to travel around New Zealand. Choosing which mode of transportation for your adventure basically comes down to your itinerary, budget and preference.