Bungy Jumping
Some people love it, some people wouldn't even consider it for a split second: bungy jumping! This extreme sport will definitely tempt most backpackers and other travellers to give it a try. From the high-structured places to the harness and elastic cord that will hold you down, people go crazy because it's definitely an extreme falling while executing your own style and New Zealand has just every Bungy Jumping activity to offer from it's commercial starting place in Queenstown to the largest city of New Zealand: Auckland.
Bungy Jumping Locations
New Zealand doesn't just offer amazing views and scenery, it's also the home for extreme sports like Bungy Jumping activities and AJ Hackett Bungy offers variant jumping activities that people will surely give a try.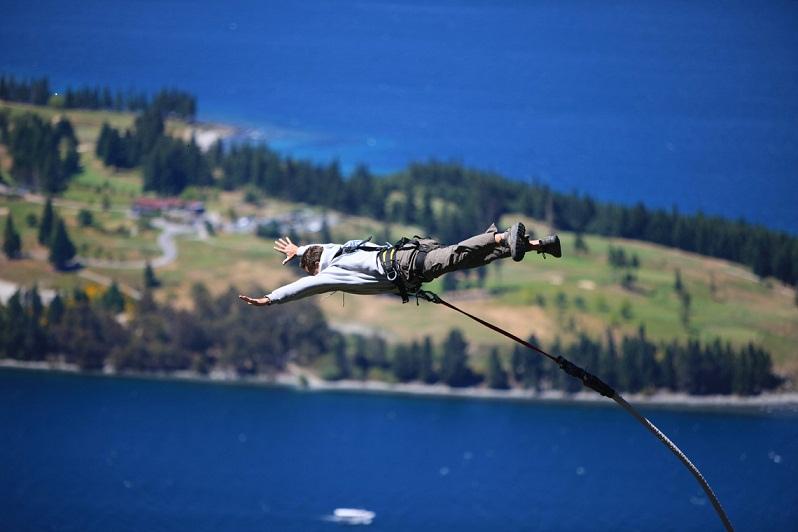 If freestyle jumping is what you prefer, the Ledge Bungy is the perfect way to finish off a jam packed winter day. Located at the top of the Skyline Gondola, this freestyle Bungy site will blow you away as you jump into the dark 400 meters above Queenstown and this built jump pod is designed to give the maximum rush.
Unlike any other Bungy sites, the Ledge Bungy's special harness allows you to execute your jump styles. Perform a twist, flip, spin, run or jump, depending on your choice. This freestyle jump provided ultimate experience if you do it at night with the spectacular lights of the town below.
It is physically located at AJ Hackett Bungy, Cnr of Camp and Shotover Street, Queenstown Central, Queenstown, New Zealand and it's an all-month operation from 11:00 AM till 3:30 PM.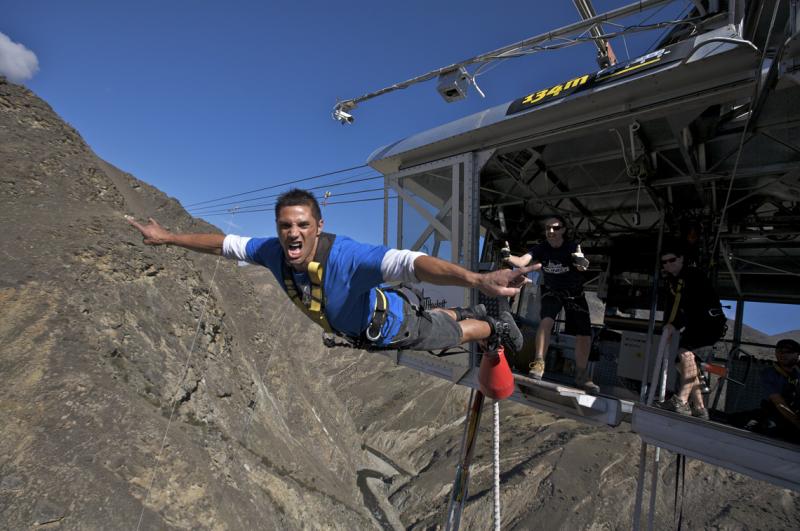 Feel your adrenaline rush as you stand on the edge of the Mother of all Bungy and New Zealand's highest and experience the greatest personal challenge in your life. With a 134 meter drop above the stark beauty of the Nevis River and 8.5 seconds of freefall, this bungy will definitely take your breath away.
Another highlight of the Nevis Highwire bungy is you are asked to get on a cable car which takes you to the Pod, an exhilarating 134 meter high ride before jumping off. It offers awesome views of the surrounding areas, as well as the chance to leap on the Nevis River.
It is physically located at AJ Hackett Bungy, Cnr of Camp and Shotover Street, Queenstown Central, Queenstown, New Zealand and it's an all-month operation from 8:40 AM till 2:40 PM.
Kawarau Suspension Bridge Bungy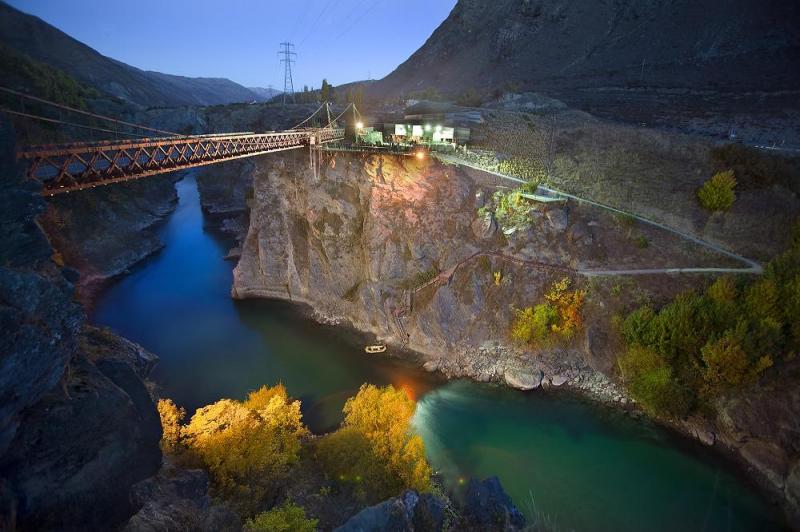 Your adventure to Queenstown is not complete without a stop at the Kawarau Bridge Bungy Center. Being the first commercial and most popular Bungy Jumping site of Queenstown, it is a 43 meters high pure adrenaline nestled into a rock face and overlooking the stunning Kawarau River and scenic views around the area.
Kawarau is the site where AJ Hackett and Henry van Asch first demonstrated the art of Bungy Jumping to the people of Queenstown in 1988. While leaving good memories and impressions, it has become the world's most loved Bungy jump and people visits the site to learn their first lessons of Bungy Jumping.
Attached by your feet, it's up to want you wish to do. You can do Bungy forwards, backwards, bob above water, get immersed in water or just touch it. Also, it's the only place in Queenstown where you can share the thrill and Tandem Bungy.
It is physically located at Kawarau Bridge Bungy (43m), State Highway 6, Gibbston Valley, Queenstown Central, Queenstown, New Zealand and it's an all-month operation from 9:00 AM till 4:30 PM.
With a package of Bridge Climbing and Bungy Jumping, you'll definitely leave Auckland with no regret.
As AJ Hackett Bungy introduces the Bungy Originals, you'll get to climb under, around, up and over one of Auckland's most iconic landmark. Custom engineered walkways are safe and enjoyable. Upon reaching the top, enjoy Auckland to the fullest with 360 degree views from the summit.
AJ Hackett Bungy is equipped to offer you every Bungy Jump Option you like, either you just touch the ocean or get dunked via ankle tie, harness jump or tandem, just name it and they can do provide it for you, maximizing your experience in jumping 40 meters off the iconic Auckland Harbour Bridge.
It is physically located at AJ Hackett Bridge Climb and Bungy, Curran Street Extension, Herne Bay, Auckland, 1011, New Zealand and it's an all-month operation but closed on all Public Holidays.
Apart from what AJ Hackett Bungy can offer, there are also other Bungy Jump Activities within the country that other tourist visit. Go on adventures and try these Bungy Jumping activities which offer variant outstanding scenic views.
Pipeline Bungy or Shotover Canyon Swing
Located north of Queenstown, the 102 meter Pipeline Bungy was the most popular Bungy jumping site until late 1990s and it spans the Shotover River in Skippers Canyon. It uses the same length cable as the Nevis and it features a jumping platform atop sluice-water pipeline, making it another perfect bungy jumping site to enjoy.
At Pipeline Bungy, you also have the option of being lowered straight away to boat after the jump to enjoy the jet boat ride in Shotoever River.
Located 47 meters or 154 feet above Waikato River, check out its stunning views before taking the plunge into New Zealand's highest water touch bungy jump towards the crystal clear water of the river.
Operating since 1991, at Taupo Bungy you can choose for solo or tandem, high and dry or dunked right up to your ankles in the water and their professional training crew will ensure your safety, with just worrying about enjoying the moment.
The Waikato River Valley is situated upstream from the world renowned Huka Falls and it's a haven for jumpers and spectators alike. Enjoy the Taupo Cliffhanger extreme swing, a licensed café and a great place to hang out.
It is physically located at Taupo Bungy, 202 Spa Road, Taupo, Lake Taupo, 3330, New Zealand and it's an all-week-and-month operation from 9:30 AM till 4:00 PM for winter and 9:30 AM till 5:00 PM or summer.
Standing above a scenic farmland, feel the adrenaline rush as the Rotorua Bungy provides some of the most spectacular views of the district especially the Lake Rotorua, Mokoia Island and far below the trout filled Ngongotaha Stream.
Just before you jump off a 43 meters or 143 feet, enjoy across the idyllic Paradise Valley and other astonishing views. Single and Tandem Jumps are available, enjoy the moment or share the fun and fear with your family or friends.
Rotorua Bungy is guaranteed safe as your calves and ankles are secured and attached to three safety cords. The service of Agroventure is using internal safety cord, ankle straps and redundant waist harness.
It is physically located at Agroventures Adventure Park, 1335 Paradise Valley Road, Ngongotaha, Rotorua Central, Rotorua, 3072, New Zealand and it's an all-week-and-month operation from 9:30 AM till 5:00 PM which is extendable for large groups application and it's closed during Christmas Day.
These are the top seven great Bungy Jumping pride of New Zealand that will definitely drive you crazy and speechless for the experience you're about to have. Go out and start your adventure now, and give these Bungy Jumping wonders a try and finally feel what it's like to fall and fly without worries.
History of Bungy Jumping 
As simply defined, it's an activity that involves jumping from a tall structure, either fixed or movable, while connected to a large elastic cord. What will happen is as the person jumps, the cord stretches and the jumper flies again as the cord recoils and continues to swing up and down until the kinetic energy is dissipated.
The first jumpers who jumped from a 250-foot Clifton Suspension Bridge in Bristol on April 1, 1979 were David Kirke and Simon Keeling, both members of the Oxford University Dangerous Sports Club. As the extreme sport was televised, spreading the concept worldwide, a New Zealander named A. J. Hackett organized commercial Bungy Jumping activities and opened the world's first permanent Bungy sites.
Several million successful jumps have taken place since 1980 and up to know, Bungy Jumping remains in many person's bucket list and people nowadays are fond of extreme sports, which include this activity in their target experiences.
There are different variations of Bungy Jumping activities namely the Catapult or Bungy Rocket where in the jumper starts on the ground. Another one is the Bungy Trampoline where in jumpers begins with a trampoline and it uses two poles on either side of the trampoline.
Bungy Running is included, which doesn't involve any jumping, but running fast until the cord pulls you backward and it's often for children. There is also this so-called Bungy Ramp where two cords are tied it the jumper's waist to a harness and a steel cable where jumpers bicycle, sled or ski first before jumping. Lastly, the Suspended Catch Air Device where in it's similar to Bungy Jumping but cordless and jumpers fall into a net instead.