Glacier Tours
New Zealand is a country of contrasts. In this part of the world, both ice and sunny climes exist; the Abel Tasman coastline features one of the most beautiful pristine beaches in the whole world while teeming glaciers thrive in the country's Southern Alps. If the latter is more your speed, chances are you're up and about for a guided trek to New Zealand's very own glacier formations.
A glacier walking journey is a lot like tramping on an ordinary hiking trail, but the difference is one has to walk real carefully with the help of a particular walking stick to balance themselves. In addition, you will be required to wear crampons—a type of hiking footwear with spikes built on the bottom for a lasting grip on slick surfaces like ice.
One does not have to be an experienced hiker or even a mountain climber to tread glaciers. If you love the idea of walking, hiking and are nimble at all times, then a trip with a knowledgeable guide is definitely a must-try in a place like New Zealand.
Basic Glacier Information
Glaciers are basically slow-moving rivers of ice produced by tons of stratums of compressed snow. The movement of these glaciers differ and it often depends on factors like ice depth, the slope underneath the ice and temperature. However, when these ice formations heave, they pose as a hazard to animals and people, causing avalanches.
Glaciers are often found in areas with higher altitudes since its formations need compacted ice which is made available by snowfall. In order for these formations to thrive, there must be a constant supply of snow and less liquefying and erosion activity. New Zealand's Southern Alps is a great location for glaciers since it provides a flawless setting for these natural wonders. Two popular and easily accesible glaciers in New Zealand are the Fox Glacier and the Franz Josef Glacier.
It surges downhill and when it doe, this motion sets off cracking and warping and eventually produces icy features like fissures and cirques. New Zealand's glacier count is over 3000 and most of these are situated in the country's Southern Alps.
Where to See Glaciers in NZ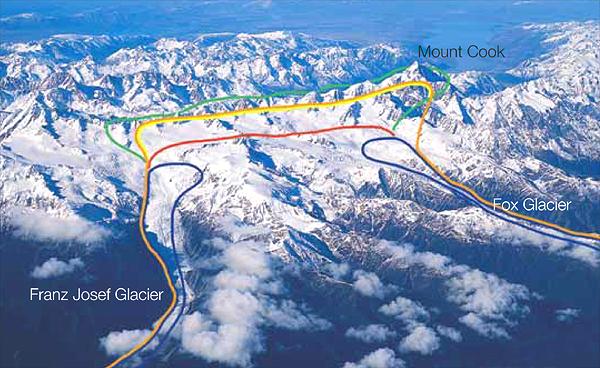 On the country's West Coast, the country's evidence of frost can be seen from huge swathes of snow in the Southern Alps down to its valley floors, which is a good 300 meters beyond sea level. Aoraki/Mt. Cook National Park is practically covered with snow. This is what makes NZ's ice so unique; they can be accessed easily.
The glaciers in this country move in a fast manner. It shifts for up to 200 meters every year. The Fox and Franz Josef glaciers are two of the most popular ice spots in the country because it's the most reachable for most hikers and mountaineering enthusiasts.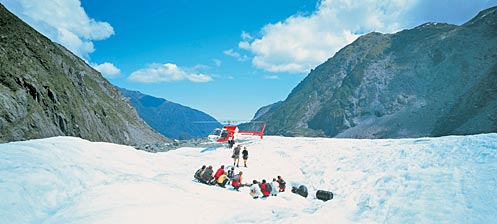 There are tour companies that offer guided treks to these places complete with expert guides who will provide vast information about these stunning ice formations. They will also provide travelers information about the particular plants and wildlife which permeate the area.
New Zealand's combo of snow and temperate rainforests makes the country's glacial zones exceptional because it is a thriving bionetwork that can only exist in the country.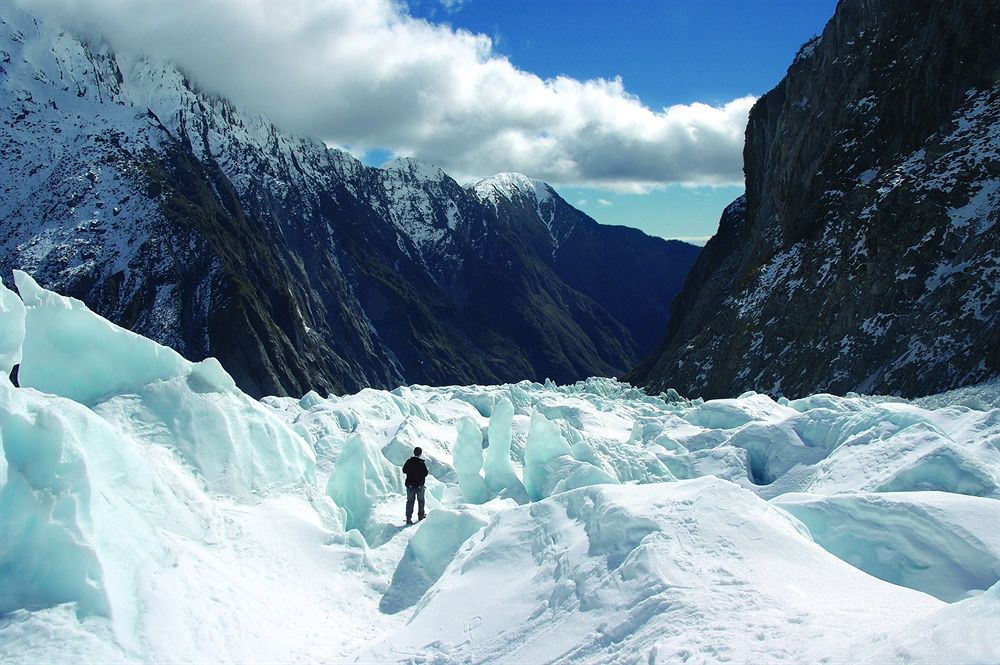 The Franz Josef Glacier is situated in the Westland National Park, one of the country's foremost tourist destinations. It is the highest and quickest glacier found in all of NZ. It is 12-km long and is roughly thousands of years old.
The Franz Josef glacier is a giant amount of ice which trickles down a mountain valley. The ice then goes into a rainforest, which is absolutely a sight that one has to see. It can be seen from a 15-meter distance. It was named by geologist Julius von Haast in the year 1863, and the name was derived from an Austro-Hungarian Emperor.
The Fox Glacier is located in the woody Southern Alps foothills. It was named after a New Zealand Prime Minister, Sir William Fox, who had the seat from 1869 to 1872. The glacier goes down from the Southern Alps into a mild rainforest which is about 300 meters beyond the sea.
In order to see this, you have to walk to the sightseeing points or to book an ice trekking journey or a heli-hike. Other than that, the Fox Glacier town features mesmerizing glow worm caves and the pristine Lake Matheson.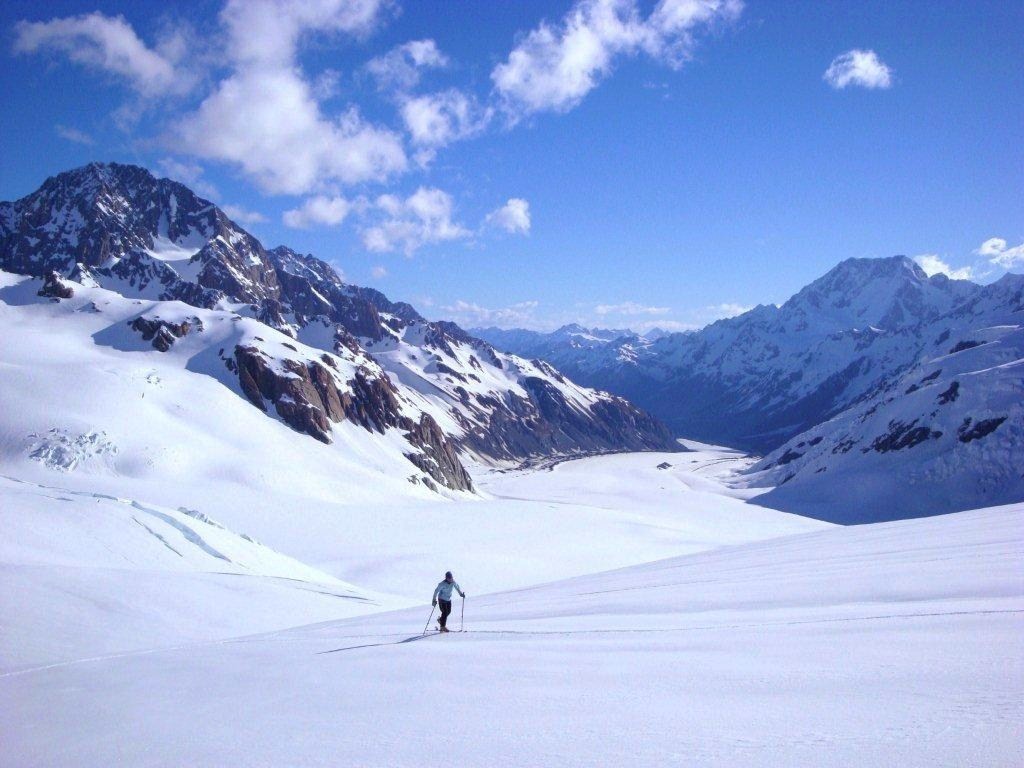 The Tasman Glacier is the biggest glacier in New Zealand with it's 27-km long and 600 meter deep. It's a stunning sight for all hikers and is also used as a landing strip for helicopters and mid-sized ski planes. The glacier area features striking lakes with a milky surface. The cloudy sheen is caused by hovering, rock sediments from the glacier. Thousands of years ago, it could have ranged out to Lake Pukaki's coastlines.
This is a good place to ski for intermediary skiers and nearby Bonney, Darwin and Murchison glaciers offer challenging slopes for advance-level skiers. You can also explore more of the Tasman glacier by boat from October up to May.
Heli-Hiking Options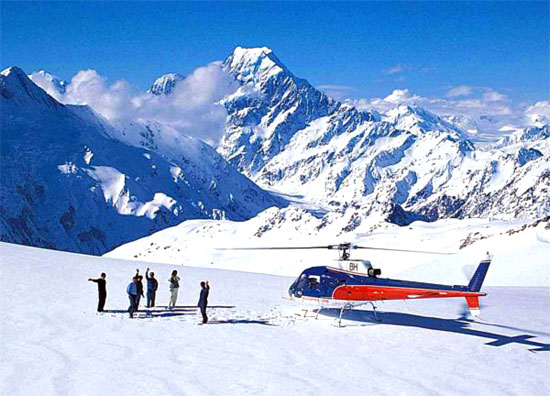 If you're not into guided walks, then you can opt for a heli-hike. It merges stunning scenic flights with a knowledgeable guide. By choosing the flight option, you will be able to gain access to the most wonderful areas of the glacier.
The sightseeing will begin with a helicopter ride and during this ride, you can observe the magnificence of the glacier up in the air prior to landing on a part of the ice formation which is not easily accessible by mere walking. It is one of those parts wherein the change in the glacier are the most visible; you will be able to explore areas like ice arcs and caves.
For this hike, customers are often provided with gear like strong leather boots to beat the cold and special crampons which will allow then to tread icy ground without any difficulty. The guide will then lead customers to the area's most striking parts and discuss in great detail the characteristics of that particular spot.
After the tour, the helicopter will once again take them back to the glacier's township. Of course, the view from up above is a sight to behold in itself.
Ice-Hiking Safety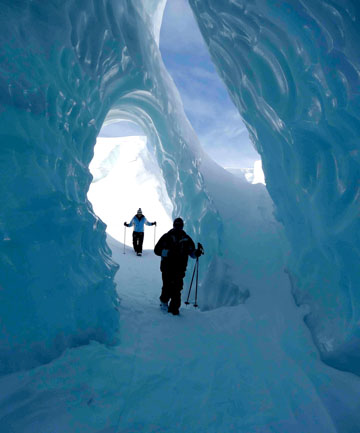 Treading glaciers can be dangerous, and a few people have lost their lives while journeying on one. Thus, it is always important that you know about the rules first before starting a hike or joining in one with your friends or family.
Be prepared with proper ice-hiking equipment. Get the required gear for yourself and advise others to do so as well. If you do not have them, then you should forget about the hike on your own. If you want to walk that giant hunk of ice formation, then you must seek the company of a guided walk.
Awareness of your own safety is a crucial factor when it comes to a good ice-hiking experience, especially if you have plans to walk the Franz Josef Glacier or the Fox Glacier since New Zealand's glacial zones are risky areas for the uninformed. Take the Department of Conservation's warning signs seriously. A few people were either drowned by icy waters or were trampled by thick blocks of ice because they opted to disregard those warnings.
You have to also mind the weather. New Zealand's West Coast is known to have erratic weather. It has high levels of rainfall thus you have to be informed what type of weather is anticipated to fall for the day or time that you will be trekking the area.
A proper ice-hiking gear includes ice axes, helmets, ropes, crampons and any other equipment or attire that is needed to climb mountains, especially icy ones. It is also highly recommended that you do not go solo most especially if you are a beginner. It is advised that you go with other people who are experts in this field.
The Department of Conservation (DoC) have appointed special rangers to do the job of assessing the risks in the valleys each morning and then choose where to station the barriers which can depend on the area's status for the time being. The barriers were put there for a good reason and that is to keep people safe from harm's reach.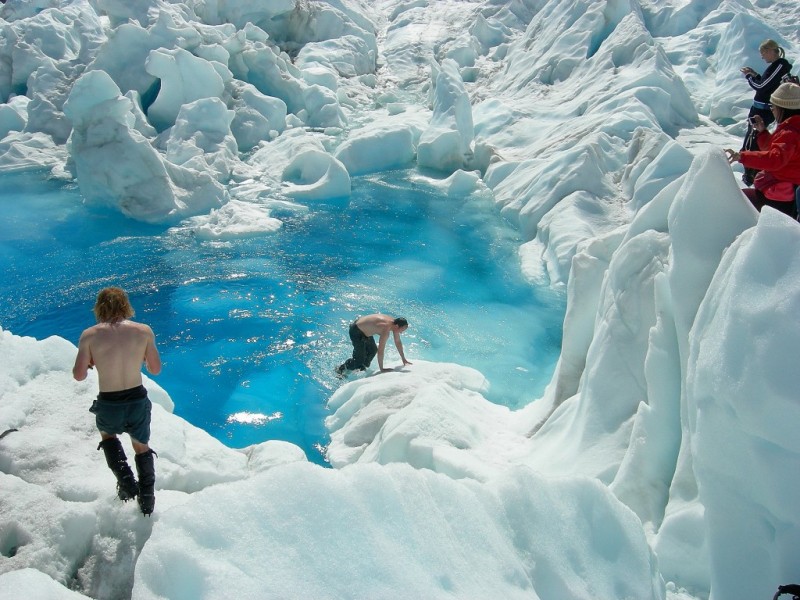 If you are a novice in this activity and you do not want to take foolish chances, an ice-hiking experience will be more memorable and safe provided you'll go with a glacier guide. These guides have undergone proper training for this job and this training usually involves rules and safety measures to keep clients safe.
So if you are hesitant yet you still want to delve into that experience or you do not have proper equipment for it, then by all means join a half-day or full-day hike provided by glacier guides and tourist firms around the country. Usually these journeys provide equipment for the trek, plus you will be given information by these guides about your destination's features and origins.
For more information about these kinds of hikes, you can do your research online and in addition, better read up on New Zealand's Department of Conservation's rules regarding glacier hikes too. There are plenty of companies offering these hikes and you can pick a guided walk from there. We know you want to see the most beautiful scenery of New Zealand but make sure that safety comes first!