Jet Boating
Jet boating in NZ is a big deal, since this kind of adventure was invented there, after all. It can suit people of any age and level of fitness and you can participate in this activity all year round too.
An New Zealand jet boat ride will carry you throughout water channels, let you zigzag through rivers' sand banks, escape tapered gorges and glide across crystal-clear water surfaces. There are plenty of adventure-packed jet boat packages available and these trips can be had at places like Canterbury, Queensland, and the North Island.
If you are interested in experiencing the ultimate in jet boat rides, feel free to read this article because it will cover the best places for you to explore, the best in jetting encounters plus a little history of how this favorite NZ activity came to be.
Jet Boating: The North Island
New Zealand's North Island has a nifty collection of fun places where excellent jet boating exploits happen.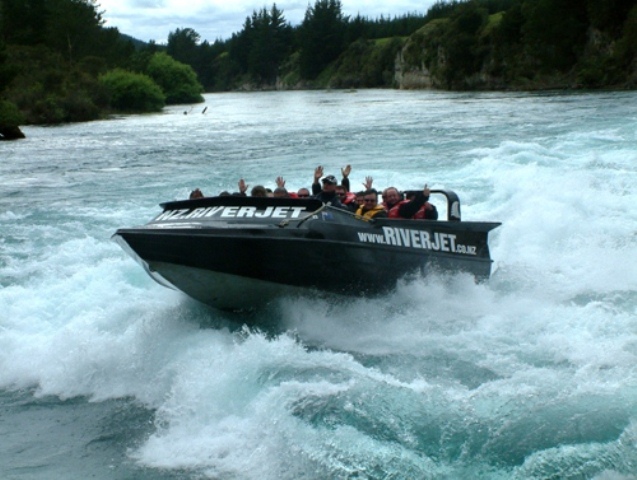 Taupo is a popular place for this particular activity and you can check out the scenery in several ways aside from getting in a high speed boat adventure. The ride with riverjet lasts for an exhilarating 30 minutes; you will pass through Huka Falls then follow through with a speedy ride on the Waikato River.
You can either choose a helicopter plus jet boat adventure package or a combination cruise plus jet boating experience; it is all up to you. But these packages don't scrimp when it comes to sights since you will be able to see trademark New Zealand highlights like the Wairakei Geothermal Fields (helicopter) or steer over Lake Taupo (cruise).
If you want more adrenaline rush, you can also pick one that promises not one but two adventure activities: skidding down waters on jets and whitewater rafting.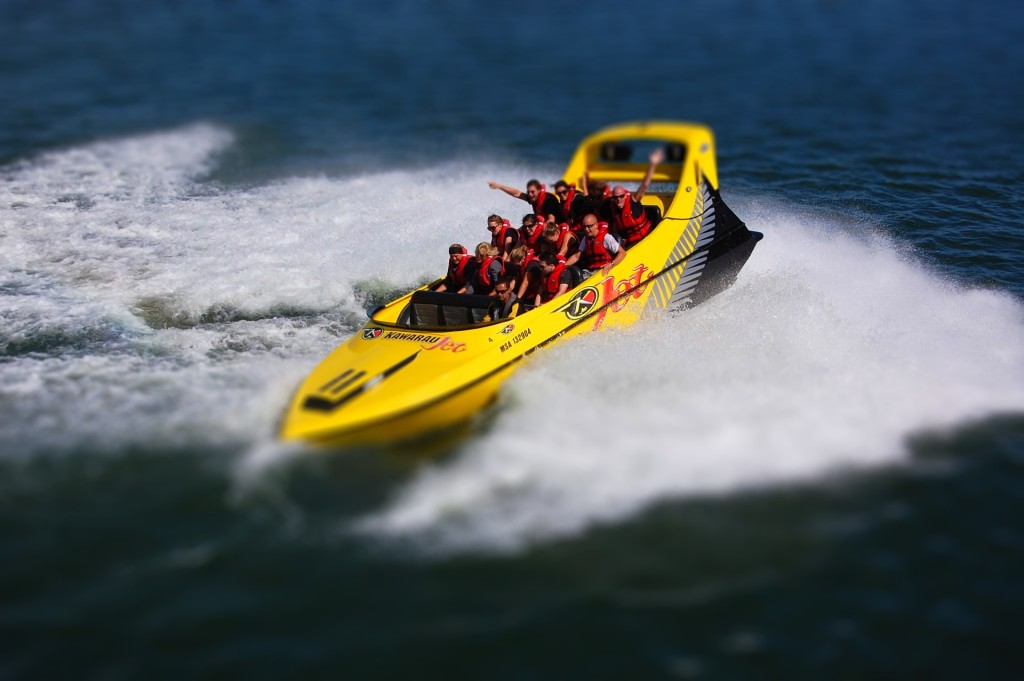 Warm your jets over on the Waikato River throughout the Tutukau Gorge and finally, a place called "The Squeeze," a tapered section wherein you will splash about in shallow waters until you reach a waterfall. After a good soak in the river's pristine, thermal waters, ready yourself for a wild, exciting ride.
Most packages include safety equipment for participants to wear so you don't have to sweat the important stuff; the guides know the drill. Also, at every Jet Boating experience you will be given safety instructions and an orientation about the ride. Rides usually start out with a steady cruise through Tutukau Gorge, passing Orakei Korako Geothermal Park.
With Auckland Adventure Jet you'll get a 40 minutes of thrilling water exploits on a Waitemata Harbour ride. Aside from the fast speed, you will spot classic New Zealand sightings like the Auckland Harbour Bridge and the Sky Tower.
Get on board in the Auckland Ferry Terminal for a safety talk and after the briefing, you will be given the appropriate gear like life jackets and spray ponchos. Drivers will dazzle you with their expert, cool moves in speeds of 100 kph. They will execute 360-degree spins and fishtails throughout the ride for the guests' enjoyment.
Jet Boating: The South Island
The South Island has its surprises too, and this small list features just some of the best stops in this locality.
Experience heart-stopping action plus amazing scenery down by the Waiau River. You will pass through strictly tapered gorges, intertwined pools of water and whitewater rapids. This is a family-friendly trip that you and your loved ones will never forget.
You will be lead by knowledgeable, welcoming professional guides throughout the ride. They are present to answer your questions and guarantee your safety so all you have to do is brace yourself for a fast and thrilling ride into the scenic sights the Waiau River brings.
Kawarau and Shotover River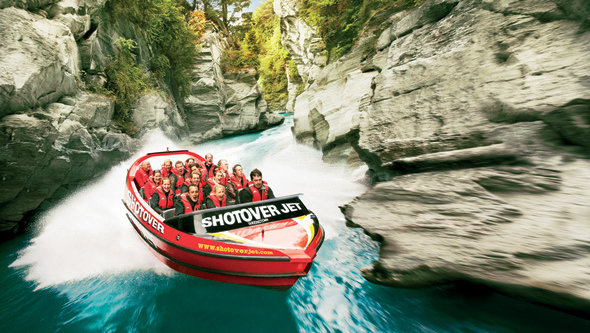 Queenstown rides often touch base with rivers namely the Kawarau River, the Shotover River and then Lake Wakatipu. First, you will be taken to Lake Wakatipu, then hold on for dear life as your driver expertly steers the boat through complex turns on the Kawarau River. Finally, you will pass through Shotover.
Throughout the ride, the driver will unleash his expert maneuvers; tricks like fishtails, power brakes and 360-degree spins will make you instantly sit straight and hold onto something solid. It is a roller-coaster cruise that you will never forget.
Covering those the two rivers and lake usually takes about three hours but aside from the adrenaline course, you will get to see splendid views of the Remarkables, a mountain range and a popular New Zealand sight. You won't miss the native life along the coast as well.
There are several options available when it comes to the tours so pick one that will suit your schedule. As was with most adventure packages, the trip includes a safety briefing before the ride and the required safety gear.
Bask in both water and the wild in the Dart River. This body of water can be found nearby Queenstown in the Otago region and is a lush, green area that's perfect for tramping and of course, jet boating.
You will pass by the river's waterways as the driver executes his list of high-speed techniques, all while being thrown in the center of breathtaking nature views. You will be wet with river water but satisfied; a surplus of adrenaline and NZ's best nature sights can do that to you.
The Jet Boat: A Brief History
As mentioned before, jet boating was invented in New Zealand and is pretty much a popular, sought after adventure activity in the archipelago.
Unlike an ordinary boat, the jet boat gets its driving force by jetting a stream of water out of it. A number of boats shift and budge by means of other energy schemes like automatic propellers, paddles or the wind. Jet boats employ the use of a centralized pump system to extract water up from underneath vessel's exterior.
This water is then directed throughout an allocated track and finally discharged by means of a nozzle. This nozzle can be found at the back of the vessel. Maneuvering the vessel can be done by transposing the jet stream. This particular vessel's propeller system is specially designed to extract water into the vessel and push it out into a strong stream, which will then move the vessel headfirst.
This idea was developed in the 50s by New Zealand local, Sir William Hamilton. As a child, he dreamed of building a shallow-water speedboat and it came into fruition by the early 1950s. The invention was a success and right after Sir William presented the potentials and competencies of his boats, introducing the full "Hamilton Turn" technique, which brought the man fame in an instant.
Sir William's inventions were developed rapidly and the steering nozzle was enhanced. By 1960, the boats were taken to a long stretch of the Colorado River throughout the Grand Canyon and Sir William's son Jon was on board on one of the boats. He was able to overcome a notorious Colorado River highlight; the Lava Falls area.
Sir William was knighted because of his contributions to manufacturing in 1974 and by 1978, quietly passed away but his legacy of exciting, wild jet boat rides live on. These days, plenty of jet boats are produced not only in New Zealand but all over the world. It is an activity that to this day, draws daredevils by the thousands.
Jet Boating Safety Tips
Jet boating adventure packages usually include a safety briefing before the ride. Participants are also given proper gear for it like safety vests and wetsuits. If you are stumped as to how you should dress for the occasion, remember that you should dress for the conditions; take in that you will face wind-chill and probably get wet during the ride so bring something appropriate to cover you.
The summer season is peak jet boating time so don't forget to put on sunscreen before heading to the vessel. During off-season, put on gear that is appropriate for the season plus gloves and a beanie that will keep you warm and you'll be ready for the ride. Also, it's okay if you tote along your sunglasses, just make sure that they won't slip off during the trip.
You can get wet during a jet boat ride, but if getting your hair wet is not on top of your priorities, then it's recommended that you sit on the vessel's center seats. Companies often provide full-length spray ponchos or jackets under safety vests to avoid getting drenched.
Some companies welcome guests to bring cameras during the ride, but only certain cameras are allowed. Hands-free cameras are alright to bring along but video cameras, camera phones and other electronic gadgets are not readily accepted. You can check with the company first before the ride to make sure, otherwise you will be advised to leave it in their secure locker storage.
New Zealand is a tourist paradise. It's offering of amazing views, local culture, native bush, and breathtaking outdoor activities are the factors that make travelers go back to the island to experience everything they've done the second time around. Said factors are also responsible for adventurous newbies to try out everything that makes the country awesome.
New Zealand's excellent grid of rivers scattered all over means plenty of water-related activities can be done; from fishing, whitewater rafting to jet boating. Experience what it means to be a local by trying out the latter; it means non-stop action coupled with scenic views of a nature wonderland like NZ.