Swimming with the Dolphins
New Zealand is not only a home to many pristine beaches, picturesque landscapes and classic backdrops but also the habitat to some of the world's rarest dolphins.
Located in the Southern part of the Pacific Ocean, New Zealand offers many of its tourists great opportunities to see and experience whale and dolphin-centered ecotourism. On several locations you can book boat trips for whale watching throughout the year. Guests get to experience swimming with the friendly dolphins of New Zealand which includes the Hector's dolphins, dusky and bottlenose dolphins.
Swimming with the Dolphins
There are numerous dolphin species in New Zealand and that's one of the reasons why tourists keep flocking in the country. Those who have experienced swimming with the dolphins unanimously agreed that the experience they had is perhaps the best one they ever had.
Dolphins are known to be gentle and intelligent creatures that are very good in interacting with humans. These animals can keep you company, play, cavort and even communicate. Whenever you chance upon encountering them, not will the experience make you feel exciting and humbled you'll feel privileged as well.
As mentioned, the common species tourists will mostly encounter in the New Zealand waters include the common dolphin, the larger bottle-nosed dolphin that can grow as large as three meters and the playful Dusky dolphin that can grow less than two meters.
There's also a chance you get to meet the rarest dolphin in the world – Hector's dolphin as well as some whale species such as the killer whale, the humpback whale and the sperm whale. Hector's dolphin is touted to be the world's smallest.
There are different cruise operators in New Zealand that offer tourists with different types of tours and swimming encounters with the dolphins. Rest assured, these cruise operators provide each of their clients with extraordinary care not only for the people who pay for their services but also the dolphins, as well.
General Information You Need to Know
Here are some pointers to remember when swimming with these intelligent creatures.
If you can't get a chance of swimming with the dolphins, you can still enjoy their company by simply looking them up close. The chances of viewing the dolphins are actually greater than swimming with them so you're in for a treat either way.
Don't worry about not swimming with the dolphins because there's really a rare chance of not getting in the water with them. Just keep yourself abreast of the updates about seeing and swimming with the dolphins.
Most cruise operators provide their guests with masks, wetsuits and snorkels. Guests however, must bring with them their own swimsuit, towel and cameras. Snacks are also provided as well as a hot deck shower for guests to warm up after swimming.
There are only limited slots for the activity, so it's best to book early. Dolphin swimming usually lasts for 2-4 hours, but sometimes the time limit for the activity will depend on where the dolphins are found.
Although the chance to see the dolphins underwater is a wonderful experience, there will be times when these animals will not be in the good mood to interact with people. When this happens, they will not interact with you underwater. Should this occur, cruise operators will bring you back on board so you can still watch them swimming freely.
Top Places in New Zealand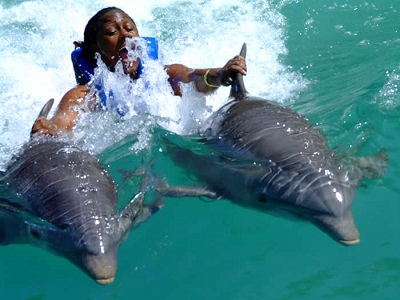 New Zealand is abounded with a lot of dolphins given with its location. Tourists flock the country for the chance to see and swim with the dolphins. If you are vacationing in New Zealand, here are the top places to go should you wish to encounter with these friendly sea creatures.
The top spot for dolphin experience, Bay of Islands on the northern part of New Zealand is a great location for swimming with the dolphins because its waters are more calm and quiet as compared to other areas in New Zealand. It also has good scenes around which make the experience more inviting.
Most of the time, you'll likely encounter two species of dolphins in the Bay of Islands – the common dolphin and the bottlenose dolphin. Bottlenoses are the ones you'd commonly picture out when you talk about dolphins while the common dolphins are those with yellow patches on the sides.
Both types of dolphins are friendly but there'll be times that their behaviour tends to be odd and to some extent, violent; hence, you're not allowed to swim with them. There will also be times you get to see killer whales, but of course, you're not allowed to jump and swim with them.
If you want to see dolphins not housed in a tank, then you better get a ferry to bring you to downtown Auckland and go past the Hauraki Gulf straight. You'd see dolphins freely leaping and diving alongside ferries that pass by the straight. If you're lucky, they'd play with you while you swim or watching them up close.
Booking for a tour in Tauranga gives you the opportunity to see bottlenose and common dolphins as well as killer whales and even Baleen whale on rare occasions. These tours will bring you the Bay of Plenty passing the Mount Maunganui. Actually, you can even go beyond the Mt. Maunganui and enjoy the beauty of another rock formation that resembles like that of the Little Mermaid.
Snorkelers will surely love this island as it gives them with vivid water and lots of beautiful, colourful and unique types of fishes. You also get to see and swim with bottlenose and common dolphins in Goat Island, too.
West Coast of the North Island
Maui's dolphin, a sub-specie of Hector's dolphins and is the world's smallest dolphin can be found on the west coast of the North Island. This type of dolphin specie is characterized by a round, black dorsal fin.
They like to swim around in shallow waters near the seashore. This is probably the reason why their specie is endangered because they are more prone to being caught in fishing nets or be hit by boats. So there's a little chance that you'll see this type of dolphin when you visit this place.
The peaceful and calm waters of the Marlborough Sounds of the South Island are a great place to swim on and do some water activities such as kayaking.
More than beauty and serenity of its waters, the Marlborough Sounds offers the best views and experience with the dolphins. Dolphin species you'd likely see in the Marlborough seas are common dolphins, bottlenose dolphins and orca.
If you are rooting for an even exciting experience, you can head towards the Kaikoura and see for yourself different species of whales.
Kaikoura is a town in the south of New Zealand known for whale watching. You'd likely see different whale species such as Sperm Whales, Humpback Whales and to some extent Blue Whales. Dolphins that are commonly found in the Kaikoura seas include bottlenose dolphins, common dolphins, Hector's dolphins and dusky dolphins.
When you visit Akaroa, you'll be treated to a really friendly, fancy food and wine experience. But more than these treats, tourists will more likely enjoy swimming with the Hector's dolphins.
Fiordland is a breathtaking place down south. The place is just ecstatic and really stunning but apart from its beautiful landscapes, gushing waterfalls and great mountains, it also is a good spot to see dolphins. However, there's only specie thriving in the Fiordland waters and it's a bit scary to swim with them because the water is really cold, close to freezing.
Farther to the south, the Porposie Bay is also a home to many Hector's dolphins. Its abundance is pretty much that you can freely watch them just by merely standing on the beach. Its waters are also good for surfing.
Best Months to See and Swim with Dolphins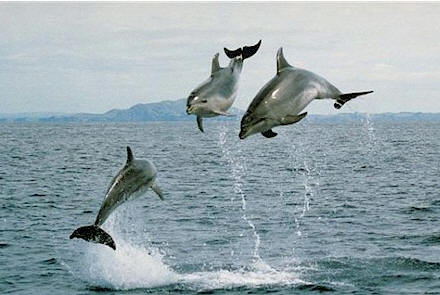 There's always a good time of the year for watching and swimming with dolphins in New Zealand. The best season to enjoy dolphin encounters is during summer. Hector dolphins and Dusky dolphins are almost always spotted the entire year but during the summer month's you have to biggest chance to see them. Another plus for swimming with the dolphins in summer is the warmer water temperature. In the South Island in winter the water temperature can go down to 8 degrees Celsius while in summer the water temperature in the South Island will warm up to around 18 degrees Celsius. In the North Island the water temperature is normally in the 20 degrees Celsius, depending on the location. Sperm whales and Humpback whales are best seen and experienced in the months of June and July while the Orca specie is best on November to February.
New Zealand is not only a green pasture everyone would probably want to live and retire but also a home to some endangered species. This country boasts 15,000 kilometers of vast coastline with beautiful nature; hence a perfect location enjoy water activities and swimming with dolphins. This country is abounded with aquatic life and the only home of the unique and smallest dolphin specie in the world – Hector's Dolphins.
Dolphins are extremely charming and friendly species that have established great bonds with humans. The best way to have fun with them is to join them and swim along with them underwater. They love human company and tend to become playful through the entire day.
What makes swimming with dolphins a wonderful experience is the chance of swimming along with other rare sea creatures such as whales, penguins, albatrosses and seals not to mention the beautiful landscapes engulfing its pristine waters.