Backpacker Busses
New Zealand is a colorful jewel in the Australasian part of the globe, and backpackers from all over can agree that the country is one of the most exquisite in terms of natural attractions, culture and wildlife. Film directors couldn't agree more as well; popular Hollywood movies have been filmed (Lord of the Rings) in the country and these opportunities add more to NZ's mystique.
The country is also well-known for the locals' hospitable and friendly disposition. It is just one of the many reasons why NZ is often included on most avid travelers' destination lists, particularly backpackers. But travel can be tough on the budget, especially if you're a backpacker with a wanderlust and limited expenses. But check out the weather before making any plans since during the year New Zealand has tropical beaches and wintersports to offer!
But fear not, since there are always great travel options that you can grab hold of, especially in New Zealand. This article will outline a popular traveling/exploring option called backpacker busses. This kind of tour package is popular with travelers cutting costs on traveling and accommodation, especially young people. Provided here is more information regarding NZ's foremost backpacker bus tours.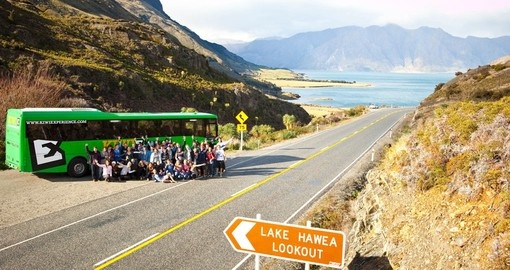 Spanning over 25 years of service, the Kiwi Experience is one of NZ's known backpacker busses operators, with local drivers acting as guides to the most excellent spots in the country. Other than giving you information about the area's hot spots, the drivers will also give passengers tips and great deals on activities and accommodations.
The Kiwi Experience features a "hop-on, hop-off" system wherein backpackers can get off the route anywhere they wish for as long as they like. Every overnight stop indicates that you have to finish at least one evening in there, and every route can be used at one time. You can talk to the Driver Guide about your plans if you need help with your destinations.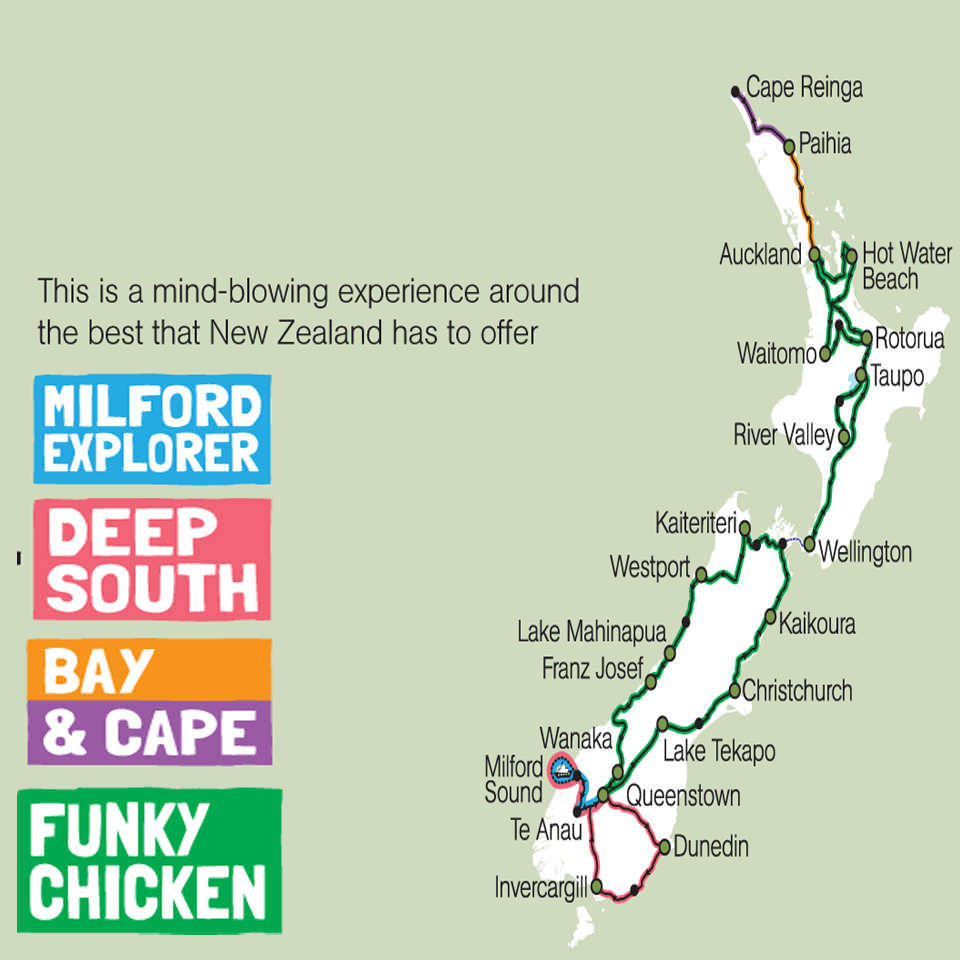 The Kiwi Experience is popular for its party atmosphere that is why it is one of the most sought after among the younger backpacker crowd. It offers flexible travel with more than 30 varying pass options that you can pick from, with up to 12 months of travel. Passes include transport around the country, activities, driver guide services, NZ guide book and discounted activities while traveling.
As for accommodations, the pass doesn't include accommodations though, but many of those places offer discounts and affordable meals on the cheap.
The company takes its passengers in backpacker hostels in chief overnight stopovers. Not only that, accommodations range from outback farms, adventured lodges and west coast pubs. The driver can book accommodations for you and majority of these places have options like dorm rooms, double rooms or twin beds.
Discover more of the country by means of great deals and fun activities with Stray Backpacker Bus passes. It's one of the best bus pass deals in New Zealand, staffed with guides who truly know the ins and outs of the country and its hottest spots.
The passes offer up to 12 months of exploring the land, which is a great deal if you happen to come to the country with a working holiday visa. It has a hop-on, hop-off system which is commended as one of the best in the country, and it features exceptional activities and layovers. You will also be granted access to NZ's national parks for hiking and be able to see the place's awesome wildlife and natural attractions.
Accommodations are excluded in the backpacker bus passes but you can process a reservation on the bus en route. Majority of activities and accommodations take credit and debit cards but it is always wise to carry a little cash with you since several accommodations might ask for a NZ$ 20 deposit for your stay.
The Stray backpacker bus pass includes land travel, excursions and activities as summarized in the pass circuit, guidance and orientation to the city of Auckland. The passes are also adaptable and you can begin your trip any time you wish. The timetable is sent right after you processed a booking.
Intercity is New Zealand's biggest bus network, and you can travel the country by means of two of its popular passes; the FlexiPass and the TravelPass. Both bus passes entitle holders to access more than 120 day-to-day bus services to over 600 cities, communities and towns all over the country, with the hop-on, hop-off system.
The company offers low-emission rides with free onboard Wi-Fi, particularly built for New Zealand's conditions.
Both passes includes traveling with the Interislander Ferry to make it on both North and South Islands. You can purchase a pass through the company's official website. When you book a pass, you will be asked to select an access code since you will employ this together with your pass number to log in.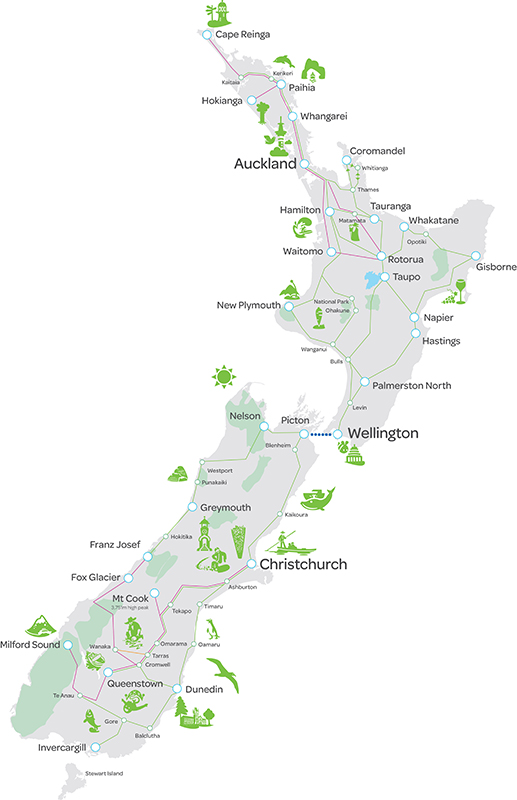 By means of the website, you can organize your routes, keep track of your own travel times and supplement your itinerary with day tours. If you want to add more hours for your tours, all you have to do is merely top-up your pass with additional hours. However, keep in mind that these top-ups don't necessarily extend pass validity.
As mentioned earlier, both the FlexiPass and TravelPass feature the hop-on, hop-off system in which holders can go anywhere they want, anytime within the pass's network. You'll be allowed to reserve or modify your bus travels up to 2 hours prior to departure without drawbacks. You are your own boss so organize your tours and excursions around what you need.
Passes are valid up to 12 months upon purchase, so you have plenty of time to explore or stop as you wish. In addition, if you have to get out of the country and you still have unused hours left on your pass, you can sell it to another backpacker or traveler with zero penalties. The Intercity bus passes are not only used by backpackers but also by single travelers, couples, groups of friends, families, and locals. The Intercity busses are ideal to meet other travelers and locals to get the best information about sight seeing and "secret" highlights.
The FlexiPass features day tours from GreatSights and awesomeNZ. If you want to join said tours, you can book by taking away the allotted tour hours from your pass. The pass will only cover the travel factors and you have to pay for the rest. The TravelPass meanwhile features day tours at Milford Sound to Cape Reinga.
The NakedBus is a great travel firm, which offers affordable long-distance land transport services all over NZ. They provide day to day services in 320 towns and cities. They also offer day tours to chief tourist spots like the Milford Sound and Waitomo Caves.
The company provides accommodation and events which you can bundle at the same time to make your own bespoke vacation. They have also launched the NakedBus Sleeper tour which is the country's first lie-flat bed on land transport. This is an overnight bus service with beds equipped with a pillow, blanket and sheet so you can take a nap all the way to your next destination. The beds measure at 179 cm long and are 45 cm wide, situated side by side like bus seats. If you want the option of having two beds, you can always reserve for two persons. The NakedBus Sleeper has Southbound and Northbound routes.
The Southbound route will take you from Auckland down to Manukau and Hamilton, then will drop you off in Palmerston North, Porirua and Wellington. The Northbound route meanwhile kicks off in Wellington, segues to Porirua and Palmerston North then drops off in Hamilton, Manukau and Auckland.
Refreshments are available in the NakedBus Sleeper and you will be served food and drink to your seat straight away by the host. The tour is available for anybody who wants low-cost travel throughout the North Island during the night in complete wellbeing.
The NakedBus is also popular with its affordable bus fare which you can get for a dollar. In order to acquire this, one has to get reservations in advance and pay for the booking fee. The company often issue bus seats 3 to 6 months early and customers who want to avail of these seats are directed to check out deals by means of email newsletters and the official website.
Remember that those 1$ seats are on a first-come, first-served basis so get those seats while you can. Also, the $1 bus rates are only accessible on bus services and rules out buses assisting activities and excursions, airports, ferries, day tours and trains.
The company also offers affordable holiday packages which includes transportation to and from your destination, exciting activities and excursions and accommodation. Go dolphin and whale watching with the firm's Auckland Whale and Dolphin Safari deals on the Hauraki Gulf Marine Park and book an Auckland Jet boat Tour as well while you're at it.
Being in charge of your backpacking holiday is the greatest method in order to get what you have paid for. That way, you can keep track of the cash you spend and see where it's going. Fret not if you have a limited budget since those abovementioned backpacker bus passes will make your New Zealand dream travel come true.
So go ahead with your journeys. Organize a ballpark plan for your travel in New Zealand beforehand but remember to keep everything flexible as well because being spontaneous can add more excitement to your journeys.